I Dragged My Stiff Body to an Assisted Stretching Studio
I first heard about boutique stretching studios last spring, when the New York Post declared them the "latest fitness luxury" among "well-heeled New Yorkers." As a physically active person who appreciates a self-care moment, I was down to try it—and finally, I got my chance.
Now, listen. I've read the Men's Health story on assisted stretching studios. I know that having a stranger pull my foot toward the lands behind my head won't necessarily boost my athletic performance. And I fully understand that it might not fix my rusty ol' hips as surely as, say, a visit to the physical therapist's office.
But I wanted to do it anyway. And reader, it was heaven.
I recently went to Stretch*d, an assisted stretching studio in Manhattan (the star is silent, I believe). I was there to try their "Flex*d" service, a 55-minute "comprehensive stretch with extra time to work on problem areas" that normally goes for $100. (The studio's other offerings include a 25-minute stretch for $45, and a 75-minute stretch for $135.)
First, some quick notes about me: I work out 5 to 6 times a week, typically cycling through HIIT sessions, kickboxing, or dance classes, if I'm feeling fancy. Otherwise, you can find me hunched over a laptop in what I am certain is not an ergonomically-correct position. I stretch sometimes—but probably not as much as I should. Lastly, I used to be an avid runner, but tightness in my hips and IT bands has made it way too painful to keep going.
The Stretch*d Experience
Walking in, I felt calm as heck. The studio was styled in clean lines and neutral colors—sort of an Instagram-friendly beach-house vibe. It smelled like an essential oil was being diffused somewhere. A friendly staffer showed me to a waiting area with an inversion table, and next to it, a woman with her legs wrapped up in Normatec Recovery Boots (it's $20 for 20 minutes in the boots). I thought, damn. If I stay here long enough, maybe I'll never feel pain again. That's probably the point.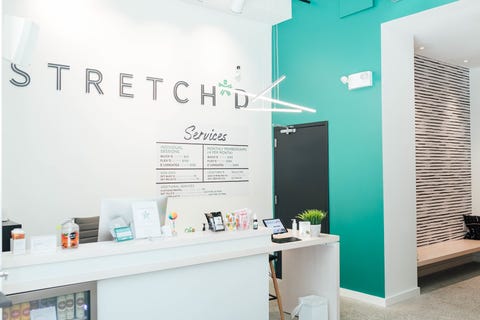 The check-in area.

Courtesy of Stretch*d
Then I met Jeff Brannigan, Stretch*d's program director and a founding team-member. Jeff, who would be my "stretch*r" for the day, led me into a curtained room with a padded table in the center. Underneath were all sorts of tools, like the cushion he'd later press into my back while prying open my arms to stretch out my pecs.
Jeff scanned the information I'd provided when I checked in, and after a quick chat about my problem areas (hello, hips), he got to stretch*ng the f*** out of me. Sure, I could do rigorous stretching on my own, but there's no way I could replicate the relieving, good-kind-of-painful ways in which Jeff bent, pulled, and twisted my limbs.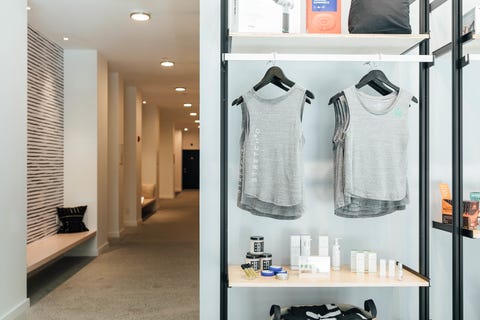 Inside Stretch*d.

Courtesy of Stretch*d
He stretched parts of my body I didn't even know could be stretched, like the side of my ankle (delicious); the inside of my wrist (I should never type again); and a part of my lower back that always feels sore ("You just stretched the part of my body I've been trying to stretch for years," I think I told Jeff in disbelief). In one of my favorite parts of the treatment, he had me turn on my side, and used a Hypervolt massage gun all around my hip. I could feel it unlocking things that no amount of pigeon posing ever could.
When we were finished, I felt like a 5'7″ tower of jelly. Nothing hurt. Everything felt so loose. And having come from a busy day at work, I was magically relaxed—no more stress. When we finished the treatment, Jeff emailed me a series of stretching tutorials, so I could (try to) replicate some of the results at home.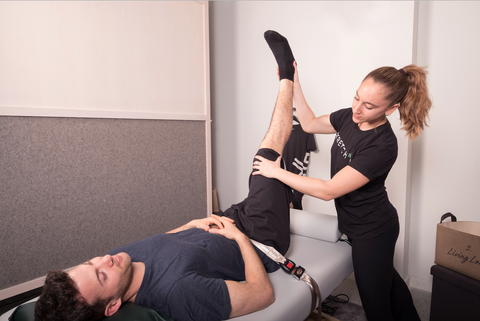 A client getting Stretch*d.

Courtesy of Stretch*d
So should you try Stretch*d?
First, as a Men's Health editor, it's my duty to remind you that you don't need to visit a pricey stretching studio to achieve your health and fitness goals. Think of it as a fun bonus routine, if it falls within your budget.
And if it does…then yes. Try it. Get thee to Stretch*d. It's like treating yourself to an awesome massage, except it's more productive, because you also learn skills you can take home. As I sat in my living room binging Big Little Lies two nights later, I slid off the couch and onto the floor, grabbed hold of my ankle, and gave my hamstrings some love.
I never would have done that before. Just sayin'.
Source: Read Full Article