These 11 Healthy Cereals Deliver a Breakfast of Champions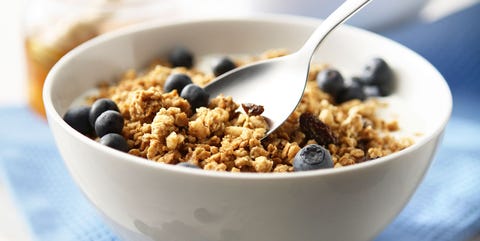 Convenient and satisfying, cereal will always be a breakfast staple for most guys. But if you're not careful, the sugary calories can add up faster than snowflakes in a blizzard. Yes, much of the mainstream cereal on the market is a lot closer to candy than a nourishing way to fuel you as you start your day. Choose wisely, though, and cereal can be nutritious enough to anchor a breakfast of champions.
"When hunting for a healthier cereal you need to look out for those that are higher in fiber and protein without a lot of added sugars or preservatives," says Kara Landau, a New York City-based registered dietitian and founder at Uplift Food. "And definitely don't be scared of fats if they come from good sources like nuts and seeds."
Overwhelmed by the colossal number of choices when spinning your wheels down the cereal aisle? Grab any of these better-for-you and tasty cereals that make it much less tempting to punch the snooze button.
Our cereal buying guidelines are as follows:
• If the cereal is made from grains, it must list only whole ones—like oats or quinoa—in the ingredient list.
• No more than 10 grams of total sugar on the nutrition label.
• At least 3 grams of fiber in each advertised serving.
• Ideally, the cereal delivers at least 3 grams of protein per serving.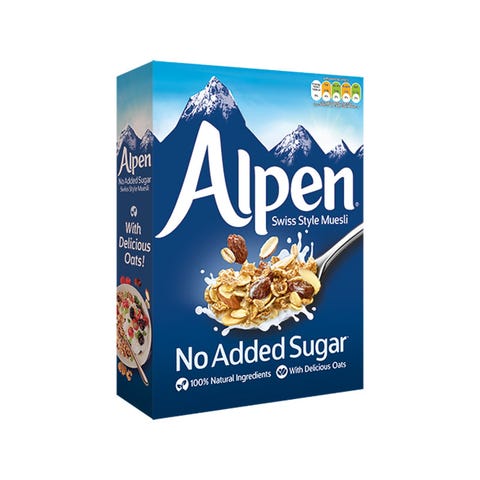 Alpen
This muesli, a hippie-approved Swiss-style cereal featuring a blend of oats, dried fruit and nuts, isn't laced with added sugar which allows its nutritious contents to shine. For even more protein, dump it on a bowl of Greek yogurt.
Per 2/3 cup serving: 210 calories, 8 g protein, 43g carbs (8g sugar, 7g fiber), 3.5 g fat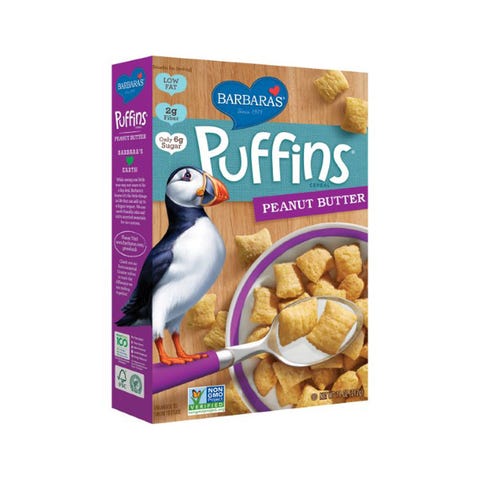 Barbara's
When you want to do nothing more than pour your cereal from a box and top it with moo juice this is a more wholesome option than anything being flogged by a cartoon character. Crunchy and not overly sweetened whole-grain oat and corn pillows are upgraded with delicious peanut butter. And when they say peanut butter, they mean peanut butter. Add chopped nuts or seeds and a handful of berries to the bowl to make for a more well-rounded daybreak meal.
Per 3/4 cup serving: 110 calories, 3 g protein, 23 g carbs (6g sugar, 2 g fiber), 2 g fat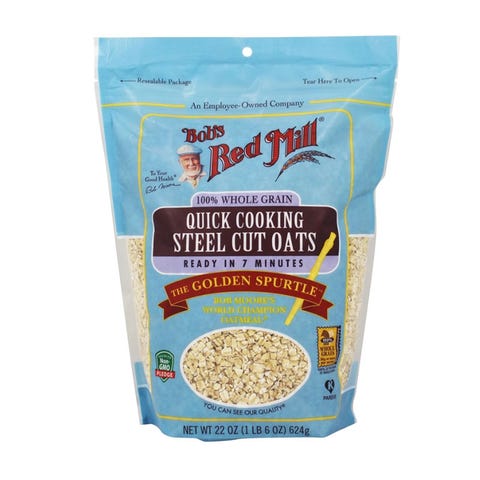 Bob's Red Mill
Spooning up a bowl of oats is a good way to silence vending machine temptation. A study in the Journal of the American College of Nutrition found that compared with eating typical boxed ready-to-eat cereal, consuming the same number of calories in the form of oatmeal results in greater feelings of fullness and desire to eat for up to 4 hours afterward. You can thank the payload of soluble fiber in this breakfast stalwart for its hunger-crushing power. Hearty steel-cut is always going to be more satiating than the sugary instant stuff, but it's required long cooking time in the morning can be a non-starter for most guys. This version is just as stick-to-your-ribs satisfying but will be on the table in less than 10 minutes.
Per 1/4 cup dry serving: 140 calories, 5 g protein, 24 g carbs (0 g sugar, 3 g fiber), 2.5 g fat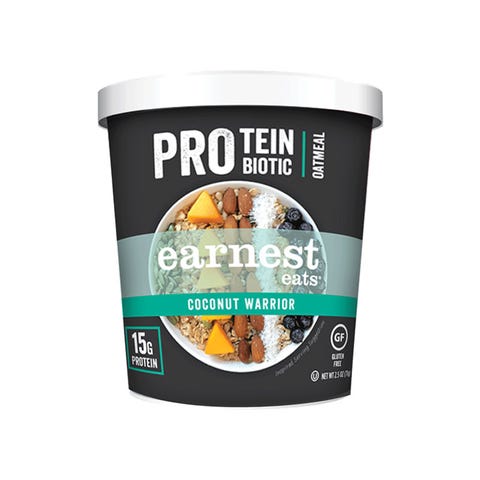 Earnest Eats
This is a far cry from your standard oatmeal. Each portable just-add-water container is fortified with a warrior worthy whole-grain blend (oats, quinoa, and amaranth), muscle-building grass-fed whey protein and probiotics to help fertilize your gut with beneficial bugs. Almonds and sunflower seeds round everything out with heart-boosting unsaturated fats.
Per serving (1 cup): 260 calories 16 g protein, 26 g carbs (1 g sugar, 5g fiber), 11 g fat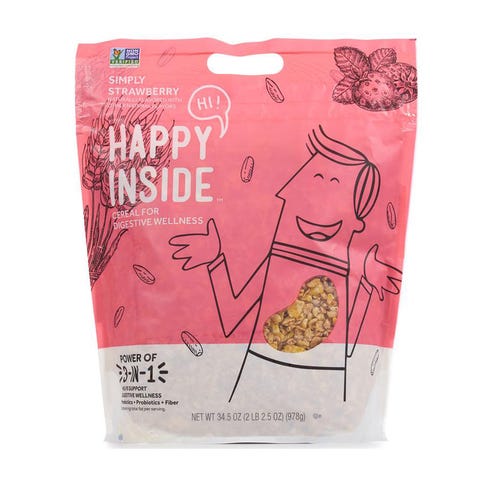 HI! Happy Inside
The duo of probiotics and prebiotic fibers (the stuff that feeds the critters in your gut) can help keep your microbiome in tip-top-shape. The self-contained cup where you can pour in milk or hot water means you can spoon up your whole grains in the office break room or when stuck in traffic.
Per 1 container: 210 calories,5 g protein, 44g carbs (9g sugar, 8g fiber), 4 g fat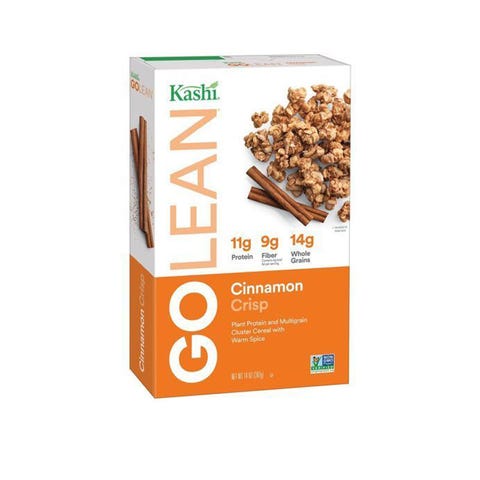 Kashi
Jump out of bed and sink your teeth into this bundle of protein and fiber. The crunchy whole grains and soy flakes (a plant-based source of protein) are livened-up with just the right amount of warming cinnamon flavor.
Per 3/4 cup serving: 180 calories, 11g protein, 32g carbs (9g sugar, 9g fiber), 4 g fat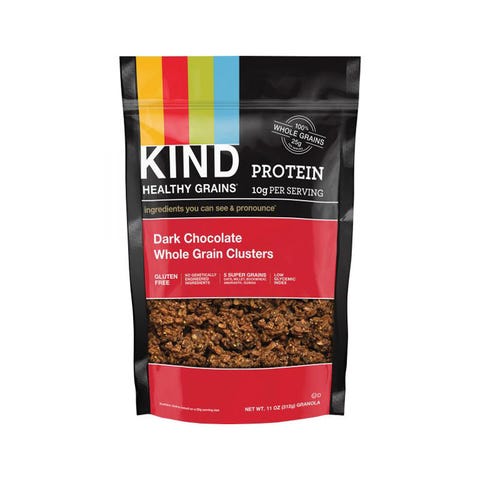 KIND
Float these chocolaty chunks of protein-fortified whole-grains in your bowl and you'll be forgiven for thinking you're eating dessert for breakfast. Albeit one that plays by the nutritional rules. There is enough protein here to curb your appetite, and research shows that consuming more cereal grains like the buckwheat and millet you'll find in each bag can help keep your waistline in check.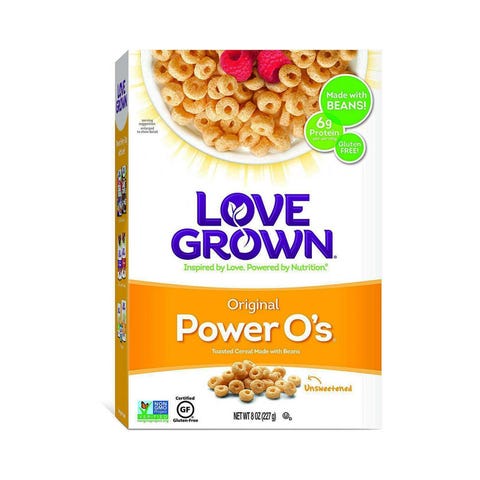 Love Grown
Huevos rancheros isn't the only way to eat beans for breakfast. Instead of grains, these ingenious crunchy O's are made with a trio of legumes: navy beans, lentils and chickpeas. And that's a smart swap since few guys eat enough of these nutritional overachievers. The original flavor contains no added sugar and the cereal resists turning soggy when swimming in milk. And consider making this cereal part of your post-workout routine. Researchers at The University of Texas at Austin found that a bowlful of cereal and low-fat milk, which provides a winning combo of carbs and protein, can kickstart post-training muscle recovery. Now that sounds a lot more delicious than your typical protein bar.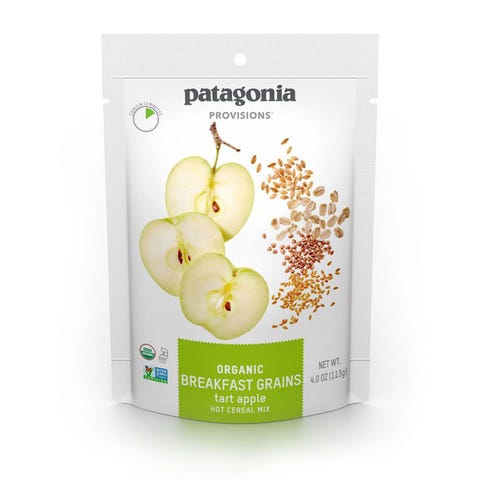 Patagonia
You don't have to be lost in the woods to reap the rewards of spooning up this fast-cooking delicious steamy mix of whole grains and freeze-dried apple. A recent study found that one surprising benefit of eating more high-fiber foods is that they can help lessen the chances of experiencing depression.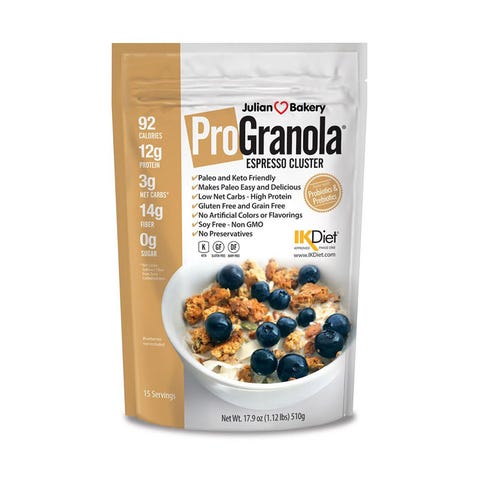 Julian Bakery
This guise of granola is everything that normal granola's not: free of grains and added sugar to appease the paleo crowd, packed with protein courtesy of egg white powder, and brimming with hunger-smashing fiber. It even delivers a caffeine kick to perk up your mornings.
Per 1 cup serving: 184 calories, 24g protein, 34g carbs (0g sugar, 28g fiber), 7g fat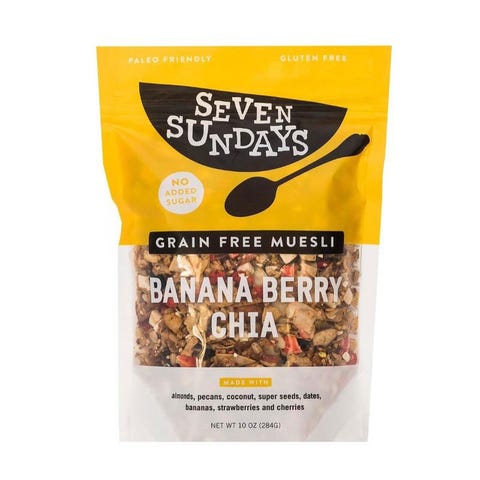 Seven Sundays
This paleo-compliant, no-added-sugar muesli is jam-packed with nutritional overachievers including almonds, dried cherries, chia seeds and sunflower seeds. A study published in the International Journal of Epidemiology showed that men who consumed more of their protein from nutrient-dense nuts and seeds can slash their risk for heart disease by up to 40 percent. Try soaking the muesli in almond or cashew milk overnight for a quick morning repast that will help you get out the door in no time.
Per ½ cup serving: 150 calories, 6g protein, 18 g carbs (9g sugar, 6 g fiber), 19g fat
Source: Read Full Article