Fitter, faster and clad in lycra: the middle-aged men racing against stereotypes
You see them everywhere. Kitted out in form-hugging Lycra, cycling in groups down leafy lanes, racing past buses on crowded roads, chatting on corners. Now they're on cinema screens, too. A documentary film out next week aims to capture the Mamil (middle-aged man in Lycra) experience, almost a decade after the phenomenon began.
"I wanted to examine what life is like today for middle-aged men," says the film's Australian director Nickolas Bird. "What makes them tick and what pressures they're under – I also wanted to explore topics like masculinity, men's health, how men support each other and how minority groups and women fit into the Mamil world."
The result is an intimate and at times surprisingly emotional film that crisscrosses the globe following Mamils in Britain, Australia, the US and Europe, with stories ranging from LGBT cyclists at New York's Fast and Fabulous Cycling Club to the Eastside Bike Club in Los Angeles, formed to help Hispanic men combat obesity. The documentary covers Mamils raising money for cancer or cycling to combat depression.
There are Mamils whose wives despair of ever seeing their husbands again, and those whose partners have joined them on the roads. A British man talks movingly about how taking up cycling in middle age has helped his multiple sclerosis, and in Adelaide, Australia, the president of the Fat Boys recreational cycling group tells how he's aiming to get fit after a bad fall.
"These are often men who find in mid-life that they've neglected themselves and need a new direction," says Phil Liggett, the Tour de France commentator who narrates the film. "Becoming a Mamil has given them a new way of enjoying life, complete with new challenges and friendships."
Rupert Englander, 45, a marketing manager from Surrey, says becoming a Mamil transformed his life. "I found myself out of breath kicking a football around the garden with my son and thought, do I really want to be an overweight dad who can't keep up with his kids?" he says. "Within three months I was hooked and, yes, I splashed the cash on the gear – the road bike, the kit – but I also found it really effective in keeping the weight off. I lost three stone in the first 18 months and I've maintained that."
He also, crucially, found that cycling allowed him time to think. "I do occasionally cycle with a friend because it's nice to catch up, but I mainly do it by myself and it's like a complete decompression time that does me the world of good. I can work out everything while on my bike – work stuff, issues that are bothering me. It's a great way of meditating on life."
Andy Critchlow, 44, a journalist in London, agrees that the sport improves more than just fitness. "Part of it is discovering I can still do something I loved in my youth, but it's also helped me become a less selfish person," he says. "These days I'm far more organised. I do my training either first thing or late at night so I have time with my kids and wife. It sounds ridiculous, but it really has transformed my life."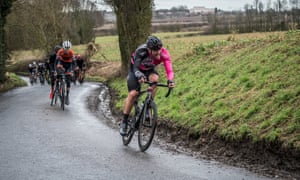 While sympathetic, the film doesn't shy away from the more risible elements of Mamildom: the expensive latest models, the sheds housing several types of bike, the competitiveness. "We know we look like stupid weekend warriors," admits one. Others talk knowingly about midlife crises as their not-entirely-amused wives roll their eyes.
"There is a bit of narcissism in it – a bit of look at me I'm still in my prime, I'm an alpha male," says Graham Berridge, a senior teaching fellow at Surrey University. "But while it's easy to be scornful of people spending ten grand on a bit of kit, the truth is the continued growth in Mamils on the roads means more people are getting fit. You'd have to be fairly mean-spirited not to see this as a good thing."
Critchlow agrees. "There are lots of really inspirational stories out there of people of all different shapes and sizes pulling the Lycra on and getting on their bike. Of course there's a bit of a Monty Python element to it – no amount of expensive Swiss-made gear can change that – but you just have to embrace your inner Mamil and go with it."
And rather than mocking this growing tribe, perhaps we should celebrate them. "Mamils don't want to grow old like their fathers did. They don't want to be sedate or boring. They don't think their lives should stop just because they are middle-aged," says Bird. "It makes me really happy when I see a Mamil who is not the skinniest bloke but who's out there with his mates, wearing Lycra and loving it. I see that and I think, good on ya!"
Mamil is in cinemas nationwide from 9 April only. Tickets available at uk.demand.film/mamil
Source: Read Full Article